Obituary for Ella Heron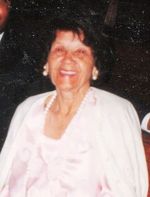 Ella Heron was born on June 9, 1920 in Greensboro, North Carolina. She was a Native American.

Ella had three sisters and one brother. Her mother and father Louise and Rev. Charles Perry stressed the importance of getting a good education to all their children. Ella, graduated high school and attended Bennett College, in Greensboro NC. Ella, graduated with a BS degree in Education.

Ella, moved to New York, after college and was employed as a history teacher. It didn't take long before she met Percy Heron, and they fell in love. They soon after got married. Percy, enlisted in the US Navy and fought in WWII. After Percy, returned they started their family. They had their first son Charles. Then they bought a house on Lakewood Ave. in Jamaica. They had their second son Brian. Ella and Percy were dedicated parents. Ella, stopped teaching to stay home to raise her sons. It was a positive experience full of love, energy, communication, education and challenges.

Ella and Percy attended St Stephens Episcopal Church in Jamaica. Ella, taught Sunday School there. Ella, was involved in many church events and fund raisers. The family was involved in supporting mom in the Lords name. After the sons moved out Ella and Percy got involved in the Green Thumb Project. They opened the first Community Garden, in the neighborhood on the corner of Lakewood Ave. and Inwood Street. "The Garden of Eden". It was a big success and was Ella's pride and joy. Ella and Percy got the neighbors involved and started a summer day camp for the children. They went on field trips to museums, parks, historical sites and the beach. Ella and Percy were a great team. Always loving and giving to help make a positive change in other people's lives.

In February, of 2002, Ella lost her partner in life Percy. Ella missed Percy very much. A few months later Ella, was diagnosed with dementia. Ella's life began to change and her two sons stepped in to make her life more enjoyable and secure. Ella, was a fighter and always tried to be positive. She didn't complain even when she was in pain.

On July 11, 2013, Ella passed on at home. It was a peaceful transition. She leaves to cherish her memory a devoted son, Brian; a daughter in law Helena; four grand children, Brian Ricardo, Ana, David and Michael, three great grand children, Isaac, Bailey, Gabrielle and a host of nieces, nephews, cousins and other relatives and friends.

My beloved mother, grandmother, great grandmother, mentor and friend will always be with us as we continue our journey in life. Ella has gone to be with Percy. We will all miss you until we meet again in God's Kingdom. Peace and much love to you mom.

Order Flowers